December 8th - 10th, 2017
in Robert Montgomery Auditorium
BCTjr Presents: "Alice in Christmas Land"
Directed by Rana Teresa Tan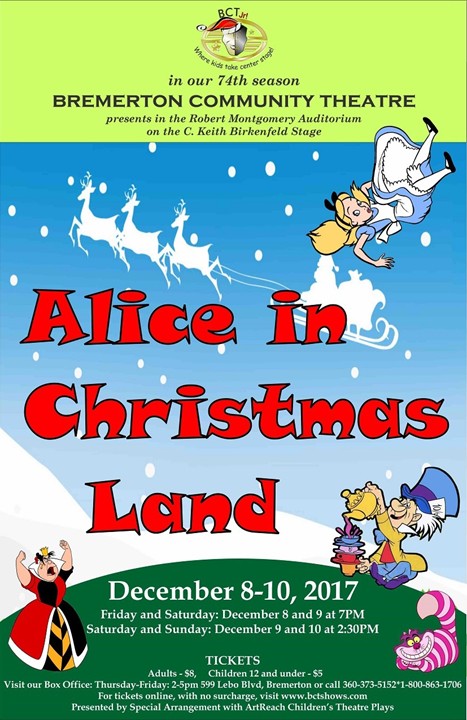 AUDITION INFORMATION: Alice in Christmas Land
If you thought Wonderland was curious, wait until you visit Christmas Land! All your favorite characters are here, including White Rabbit, Tweedledum & Tweedledee, Cheshire Cat, and the Mad Hatter. Everyone is getting ready for Christmas! The Mad Hatter has a silly tree decorating party, the Cheshire Cat can't understand why her stripes are green and red, and the Queen of Hearts hasn't an ounce of holiday spirit. But Alice finally convinces the Queen that if she uses her heart, she will be the greatest Queen of all.
Lewis Carroll's beloved classic is adapted with an exciting Christmas twist. BCTjr proudly presents Alice In Christmas Land, a musical play featuring a cast of 40 kids ages 6-18. Auditions are November 5-6, 2017 from 6:30-9:00PM. You do not need to prepare a monologue or song for auditions, and you do not need to attend both days to be considered for a role. Rehearsals are typically 3 nights a week from 6:30-8PM, with performances December 8 and 9 at 7PM, and December 9 and 10 at 2:30PM. Questions? Please email director Rana Tan at bct.jr@hotmail.com.